Then it was off to Oregon the day after Christmas. We actually were not sure we were going to be able to make the trip due to the nasty roads and weather. Birch and I went back and forth whether we should go or not. In the end we are so happy we made the trip. The roads certainly had their scary moments but the time we were able to spend with my family was priceless.
While were were in Oregon my sister Laura and her husband Jared had a little shindig celebrating their October wedding. Any party my mom puts on is always planned to the "T" and very elaborate in all the homemade touches. My brother Seth and Matt cooked up about three hundred crepes and there were probably a dozen fancy toppings to dress your crepe with. I tried to be helpful but mostly I just ran after kids and enjoyed the evening catching up with longtime friends.
One morning the kids, Birch and
Poppi
headed out to work off some energy. They stopped by the Oregon State football field and found that the gate was open. Boy, were the kids excited (actually I think Birch was equally as excited)!
I'm not sure there is a bigger Beaver fan than Alex!
Alex was totally embarrassed that everyone in the family was wearing the Duck's colors. He asked me to
photoshop
this picture but for memories here it is in its true form.
We loved hanging out with all my family. We were just missing my littlest brother Luke who is serving a mission in Paris, France, Matt's wife Jessica and their baby Sofia. Even though our trip was just over the weekend I really felt like I had some real quality time with my
siblings
. Lately it seems like all of our visits have been so centered around some big family event that it doesn't allow for a lot of just hanging out and visiting. What an awesome family I have! I feel so blessed as well to have had such great new sisters and brothers join our family through marriage. Way to pick some good ones!!!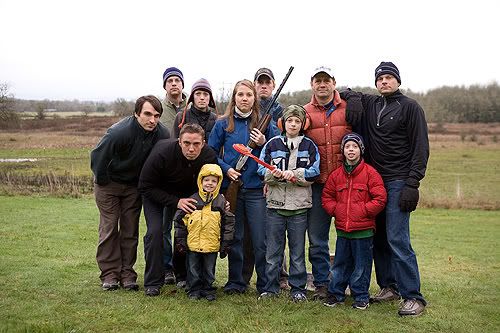 Another morning when the rain stopped briefly a bunch my
siblings
and our kids ran down to my parent's field and had a little clay pigeon shooting fest. I tried my hand at it and found the gun way to heavy and powerful for this dainty weak girl.
We brought this Foosball table back from Oregon that my dad had originally bought for his office. After setting it up at our house we found that the base was warped and so Birch took the opportunity to convert the table into some true Beaver pride. It turned out great and the kids have really had such a ball playing it.
The trip flew by and soon we found ourselves back in the car heading back home for work and school. Can't wait for our next visit with everyone!