Birch and I were able to escape the litter (aka. children) for a few days to Utah during Spring Break. We are
so
super grateful to our friends and family that watched the kids so this trip was possible for us to go on. The kids had a great time playing with their friends and cousins. For the time being we have decided to not allow the kids to go or have sleepovers so spending the night at their friend's house was even extra special.
Our trip to Utah was celebrating several wonderful occasions in my family. My sister Laura is serving her mission in Switzerland (she comes home in two and half months--YEAH!!!). We all really missed her but at the same time we couldn't be prouder of her selfless service at this time. With that said, hurry home Laura--we all can't wait to see you!!!
Each day in Utah was filled to the max. Here are some of my favorite highlights:
Hanging out with my nephew Isaac and niece Lucy.
Since we don't get to spend much time with Ike and Lulu it took them a few minutes to warm up. As you can see, I won Issac over with these cool ski goggles.
Spending an endless amount of time with my siblings and their fantastic spouses!
In the picture above, Caroline (Seth's wife) is filling in for Laura. Our first night in Utah, Birch and I drove to Provo and spent the afternoon and night with Leah, Geoff and their kids. Leah made us the most yummy dinner. Leah and Geoff always make us feel so at home when stay with them.
Partying it up on our own.
Each of us also had fun doing something we don't get to do very often--Birch skied all day at Solitude Ski Resort with my brothers and dad; and I shopped all morning at the Park City Outlets with the girls. It is a RARE time that I get to shop for hours without the kids. I'm not really a die-hard shopper but I do LOVE a good deal--and that I found!!! If I had a picture of myself it would have been me smiling, holding several shopping bags of kids clothes.
General Conference at the Conference Center at Temple Square.
Saturday morning Birch and I had the treat of caring for our nephew Tommy so Seth and Caroline could go to conference. We loved bonding with him and hanging out with Matt, Jessica, and baby Sofia. Sunday afternoon Birch and I got to go to the Conference Center for the afternoon session of conference. It was a real treat! My Grandma and her husband live right next to the conference center so we were feeling very spoiled the whole weekend. (Note: Birch has an AWESOME ski goggle burn line. We all had fun making fun of his new look.)
Celebrating my Grandma's Temple Sealing and first time to the temple!!
This is what actually initiated the trip to Utah. My Grandma is an AMAZING, ENERGETIC, LOVING woman!!! She was married to her husband Rudy a little over a year ago and then shortly following their marriage my Grandma was baptized in
The Church of Jesus Christ of Latter-day Saints
. Rudy was baptized just months prior to my Grandma. The past year has been so fun to watch my Grandma in love--she has always been in-love with life but these additions have made her even happier. Grandma and Rudy hosted a delicious dinner at the Joseph Smith Building celebrating their sealing. It was a night I will not forget!
My brother Luke,
what more can I say. He is an "ORIG." He also went through the temple for the first time in preparation for his May departure to Paris, France for his mission. It was fun to feel of his love for life and catch up since we haven't seen each other much in the past couple of years.
Meeting Sofia Grace Sherry.
Though Sofia has only been part of our family for six weeks we have all felt so blessed by her spirit being added to our family. Matt and Jessica are such wonderful, loving, and caring parents. What can I say...adoption is a wonderful blessing!!! Sunday night we were able to be apart of a dinner in her honor (and Matt's birthday).
Sister Time.
What can I say...sisters are wonderful! Emily didn't even get mad at me when I borrowed this dress from her : ) We've all grown up!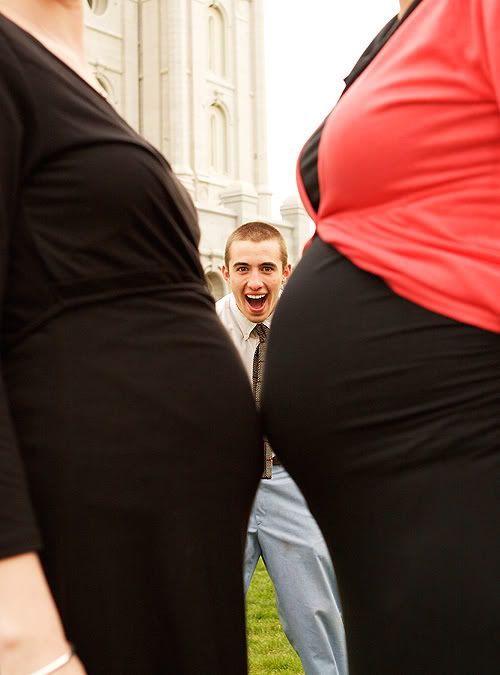 Sharing Pregnancy With My Sister Emily.
There is something to treasure about being pregnant with your sister. Maybe it is because we haven't had many births on the Sherry side of the family or maybe it is because it is nice to have someone that truly understands your pregnancy woes and joys. Emily and I are four weeks apart in delivering. While in Utah we were able to have a baby shower for Emily. It is so fun to be apart of this part of her life. After looking at these photos from Leah's photo shoot I am feeling a bit like a short fat round cow with bad posture, while Emily seems to be sportin' the new look with such cuteness. Maybe the competition never goes away between siblings (did I mention that I did measure three inches smaller than Emily around our tummies--at least I won something)
Spending time with Birch.
We celebrated every minute of being child free. We made a QUICK trip to IKEA, Birch played basketball with our brother-in-law at BYU, we visited Birch's aunt and grandparents in Centerville, UT, we laid around if we wanted to, we snuggled on the couch with no interruptions, etc...
Gotta love family!